For Enterprise
Go electric and make an impact
Futureproof your business and move towards net zero by activating an EV strategy that energises your bottom line. Bringing together the choice of the best hardware available and cutting-edge fleet management technology, discover enterprise charging solutions that can scale, as your business powers ahead.
Speak to us today
From assessing your charging needs to installation, management and maintenance, our experts are here to guide you every step of the way.
1
Create your EV strategy
3
Installation from our experts
4
Support when you need it
Your road to electric impact
View our range of chargers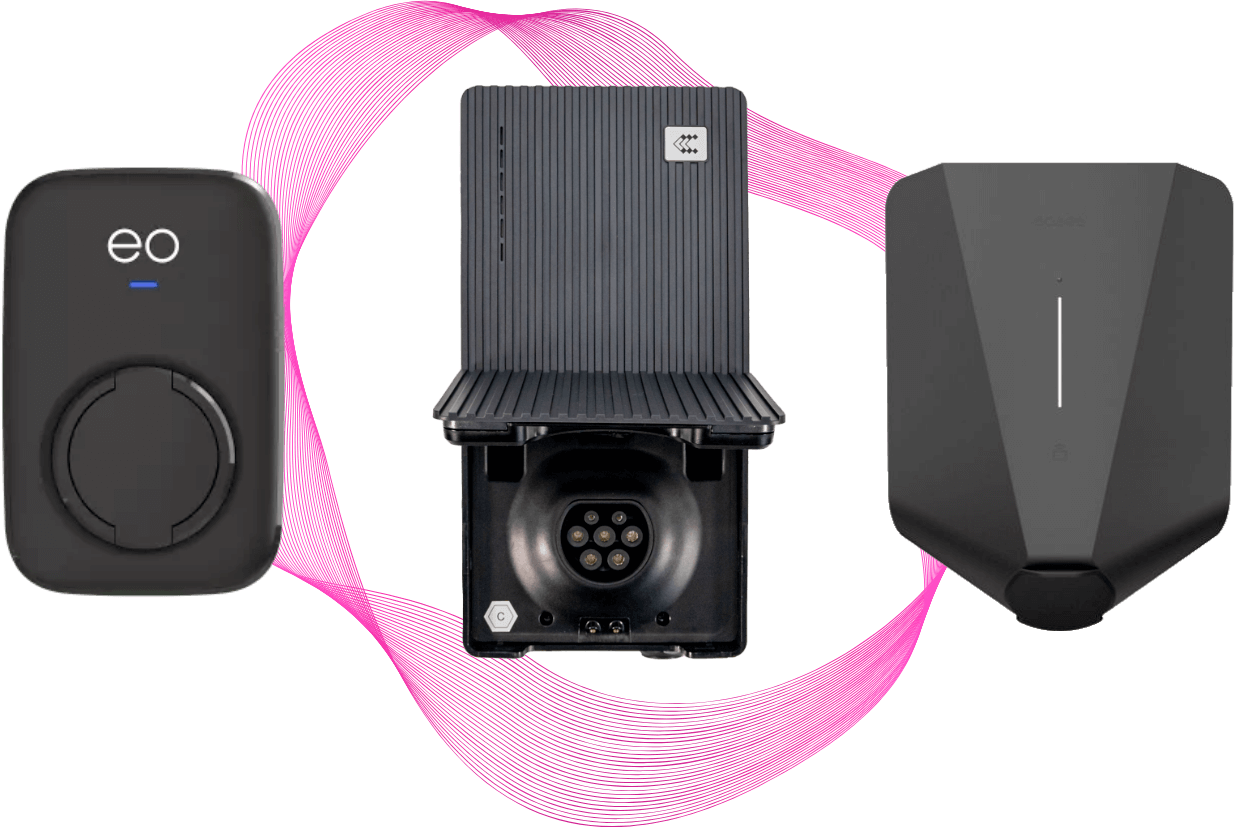 Scalable charging solutions
Charge forward with your businesses' electric transition with a choice of the world's best performing hardware.
Plan your EV transition
Whether it's workplace chargers or an entire fleet transition, we'll design an EV transition plan together that creates value for your business.
Keep your drivers on the road
Empower your employees with a charge card that gives them access to one of Ireland's largest charging networks when they're out on the road.
View our range of charge cards


Electric estate management your way
Monitor usage, set tariffs, maintenance and more. Switch on your network now with our cutting-edge charging management platform.
View our software
Comprehensive support, when you need it
From planning and installation to ongoing management and troubleshooting, our experts provide you with the support you need to realise your EV strategy.
Extensive coverage, with a local touch
With a truly national presence, we promise that wherever you are, you'll receive a local service.
The scale to support you
We're experts in mobility, sustainability and the energy transition, supporting over 350,000 businesses globally.
Our partners
We partner with pioneering brands to offer you the best choice, support, software and network access available.
FAQs
What are the benefits of switching to electric?
The biggest advantage of EVs (electric vehicles) is the positive impact on our environment. EVs have no tailpipe, so they don't emit any exhaust gases.
More areas are introducing Clean Air Zones, which charges polluting vehicles when entering certain areas. EVs are exempt from these charges, as well as road tax.
There are fewer mechanical components in an EV compared to petrol and diesel vehicles, often resulting in lower servicing and maintenance costs.
Which type of charge point should I install at my business?
There are 3 types of EV charging points available to install at your premises:
Standard (3-7kW) – This is best suited if you have one or two EVs and charging takes approximately four to eight hours
Fast (11-22kW) – This is best suited if you have multiple EVs or vans. Charging takes approximately two to four hours.
Rapid (up to 50kW) – This is best suited if you have larger fleets of EVs. Charging takes approximately 30 to 60 minutes.
If you're unsure which charger is the best fit for your business, get in touch with our team of experts who will gladly advise you.
How far can EVs travel before a recharge is needed?
As a general rule (based on a 7kW home charger), you can get up to 20 miles from each hour of charging for a small EV.
It's important to note that this is dependent on the make and model of the EV, the type of charger you have and the speed you drive at.
To give you an example, the Tesla Model 3 has a range of 360 miles before recharge, whereas the Nissan Leaf has a lower range of 168 miles.
Are EVs cheaper than petrol and diesel vehicles?
EVs are significantly cheaper to run than their petrol and diesel equivalents, even when considering the increases in electricity costs. The Energy Saving Trust found that fuel costs are often three to four times more expensive than travelling the same distance via electric.
In addition to this, you aren't currently required to pay road tax and if you drive within ULEZ (Ultra Low Emission Zones) or CAZ (Clean Air Zones), EVs pay no charges (while diesel vehicles pay the most!).
How long does it take to charge an EV?
To charge your EV from empty to full takes on average 8 hours when using a typical 7kWh charger – however this depends on the size of your vehicle battery and the power strength of the charging point.
Although this is a long time, most EV drivers take the 'little and often' approach to charging, topping up their battery whenever the car is stationary and a charge point is available. This could be at home, your place of work, or a 10 minute pitstop during a journey. If a full charge is required, EV drivers often schedule this for overnight (if they have a charge point at home) for convenience.