Discover the power of convenience with a home charging solution that lets you charge around your lifestyle and at speed. With the choice of the most cutting-edge and best performing solutions readily available, there's now an easier and more stylish way to go electric.
Speak to us today
From assessing your charging needs to installation and ongoing support, our experts are here to guide you every step of the way.
2
Installation from our experts
3
Support when you need it
Powering your electric journey
View our range of chargers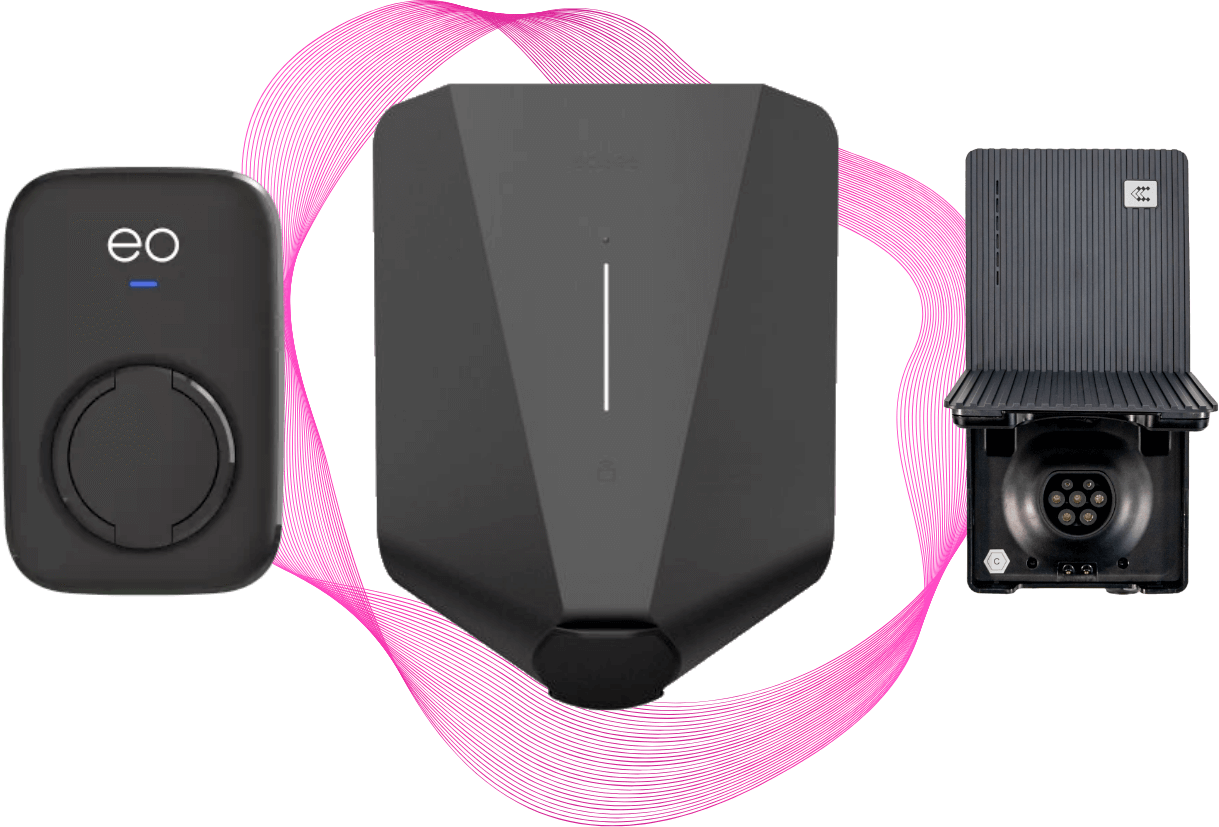 Your choice of the best chargers
With an unrivalled choice of hardware from the world's leading manufacturers, we have the charging solution to meet your needs.
Customisable to suit your style
Our chargers come in a variety of colours and styles to suit you and your home.
Fast installation to get you moving
Our fully-qualified experts manage the entire installation process. No matter where you are or how complex the installation, you can be charging your vehicles in just 14 days.

Cutting-edge software
Gain complete control of your charging via our intuitive app, helping you save money and charge around your lifestyle.
View our software
Local presence, national reach
Our offices are located in every corner of the UK, meaning we provide a local service no matter where you are.
A leader in the energy transition
We are experts in mobility, sustainability and the energy transition, supporting over 400,000 businesses globally.
Our partners
We partner with pioneering brands to offer you the best choice, support, software and network access available.
FAQs
What are the benefits of switching to electric?
The biggest advantage of EVs (electric vehicles) is the positive impact on our environment. EVs have no tailpipe, so they don't emit any exhaust gases.
More areas are introducing Clean Air Zones, which charges polluting vehicles when entering certain areas. EVs are exempt from these charges, as well as road tax.
There are fewer mechanical components in an EV compared to petrol and diesel vehicles, often resulting in lower servicing and maintenance costs.
By 2030, the UK government will end the sale of new petrol and diesel cars and vans. By investing now, you're getting ahead of the curve and future-proofing your organisation/home.
Why should I get a home charging point installed?
There are numerous benefits to home car charging, including:
Cost efficiency – as the home charging points use your own electricity supply, there's no additional costs.
Safety – Charging points are weatherproof, wired directly to your fuse board and are designed with overload protection for added safety.
Convenience – Gone are the days of queuing at public charging points, you can top up your battery any time at home. By charging overnight, you'll also have peace of mind knowing you'll always have a full battery in the morning.
Which type of charge point should I install at home?
Most UK homes run off a single-phase power supply, which supports 7kW chargers, so these are the most common choice for home users.
22kW chargers are also available which are 3 times faster than the 7kW units, however they require a three-phase electrical set up. If you have a single-phase power supply you will not be able to have a 22kW charger installed as the power supply is not strong enough.
How far can EVs travel before a recharge is needed?
As a general rule (based on a 7kW home charger), you can get up to 20 miles from each hour of charging for a small EV.
It's important to note that this is dependent on the make and model of the EV, the type of charger you have and the speed you drive at.
To give you an example, the Tesla Model 3 has a range of 360 miles before recharge, whereas the Nissan Leaf has a lower range of 168 miles.
Are EVs cheaper than petrol and diesel vehicles?
Although EVs are currently more expensive to buy than petrol and diesel vehicles, it's important to consider the total cost of ownership (TCO), which takes into account the costs of using and maintaining the vehicle.
EVs are significantly cheaper to run than their petrol and diesel equivalents, even when considering the increases in electricity costs. The Energy Saving Trust found that fuel costs are often three to four times more expensive than travelling the same distance via electric.
In addition to this, you aren't currently required to pay road tax and if you drive within ULEZ (Ultra Low Emission Zones) or CAZ (Clean Air Zones), EVs pay no charges (while diesel vehicles pay the most!).
The UK government are only likely to increase the cost of ownership and use of petrol and diesel vehicles in the future, making an EV a sound investment for both financial and environmental reasons. 
How long does it take to charge an EV?
To charge your EV from empty to full takes on average 8 hours when using a typical 7kWh charger – however this depends on the size of your vehicle battery and the power strength of the charging point.
Although this is a long time, most EV drivers take the 'little and often' approach to charging, topping up their battery whenever the car is stationary and a charge point is available. This could be at home, your place of work, or a 10 minute pitstop during a journey. If a full charge is required, EV drivers often schedule this for overnight (if they have a charge point at home) for convenience.